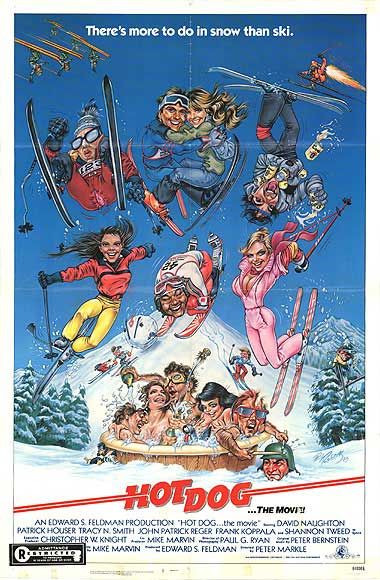 Hot Dog...The Movie!
This movie has everything. Snow Sports, lots of boobs, tons of cool sunglasses, lake tahoe (it's set in Squaw Valley), some really good/bad synth pop including a weird version of "when you were mine", Shannon Tweed (gene simmons's wife and 1981 miss november playmate),
a beej in a cable car
, and a really good cable description:
(1984) one star, Rivalry between overgrown adolescents at a skiing competition in Squaw Valley, Cal. (Comedy, 96 Mins)
TRAILER!
It made it to #7 on the list of Entertainment Weekly's
top teen sex comedies of the 80s
. I immediately want to put every movie on my netflix queue and lure Ksteg over to watch them with me, especially
Class
which features two of our fave guys, Andrew McCarthy and Rob Lowe.
It's on the Flix channel, so if you have Charter OnDemand, look in the free movies and I bet it's there. All the best movies only get one star. I can't wait until my mom is done hooking up my hand me down tivo that she couldn't use with her cable anymore. I watched it because I remembered this other ski movie that I saw when I was a kid and thought I'd give it a chance...turns out someone else had the same line of thought in reviewing it
here
. I really don't like how they rated Better Off Dead though.