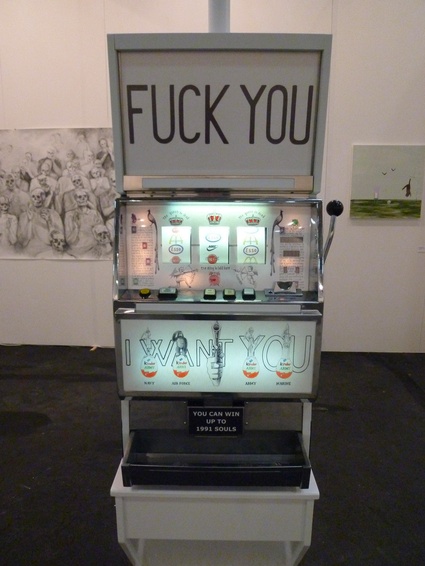 Giuseppe Stampone, Passepartout automatico, 2009
I have a thing for old slot machines since I grew up around them in Reno, NV. I love the pull lever and the spinning, and a story my dad's friend Jeff told us about being a kid in Reno and how "the rules were so much looser back when we were kids" and how they'd put money in and pull the lever and then run as fast as they could so they wouldn't get caught, but one time when they hit the jackpot which, in turn started a huge dispute between he and his friends and the over legal age guy trying to claim THEIR jackpot! I would probably still crack up if he told me that story today.
Most of all I love the noises they make when there are a bunch of them around remind me of a strong feeling of home and specifically the Reno/Tahoe International Airport. I want to go visit my sister really bad lately. Maybe my mom and I will have to plan a trip to see Caryn and B and my two nephews Brendan (who is 16 and just became an Eagle Scout!) and Brian (who will be 22 this January omg!) and my old friends and their moms that in most cases I liked talking to them just as much as their daughters my age. hehe.